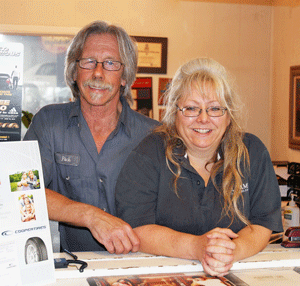 "Welcome to Adams Tire &
Auto Center in Las Cruces
We're Here To Help You!"
"Where You're Considered a
Friend, Not a Number!"
Tire Brands We Carry:














Plus Many Many More!

On a Tight Budget?
Come See Our
Large Selection of Used Tires!

Complete auto care is what Adams Tire & Auto Center in Las Cruces is all about, and we've been doing it since 1956. Our auto technicians are trained and ASE certified to perform the following diagnosis, repair, and service on your automobile, light truck, or motor home.
•

Domestic & Foreign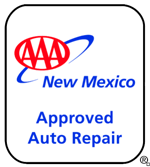 •

System Diagnostics


•

Brake Systems


•

Tune-ups & Maintenance


•

Transmission Repair


•

Heating & Cooling


•

Alignments


•

A/C Service & Repair


•

Exhaust Systems


•

Electrical Systems


•

Fuel Systems


•

Suspension Systems


•

Tire Service


•

New & Used Tires


•

 Lube Service


**As an American Car Care Center Our
Warranties Are Good Nationwide!

**We Offer FREE Pickup and Delivery
and FREE Shuttle Service!

Contact
(575) 527-8473 - Tires
(575) 523-7511- Automotive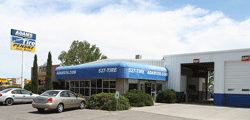 Address
2001 S. Valley Dr.
Las Cruces, NM
Map and Directions

Website
www.adams56.com

Hours
Monday - Friday: 7:30 AM - 5:30 PM
Saturday: 8:00 AM - 12:00 PM
Adams Tire & Auto Repair Center
Serving Las Cruces
SInce 1956!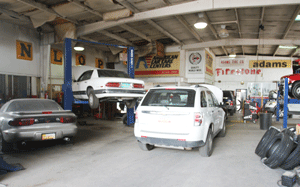 "Your Complete Auto Repair Shop
in Las Cruces, NM"

and

"Your Complete Tire Center
in Las Cruces, NM"
Meet Some of Our Mechanics!

Testimonials

"Mr. Adams, Suzy, and Crew, Thanks to you all and your mechanic. We truly appreciate the very friendly and caring way you all treat your customers. We just wanted to say thank you one more time."
- Ray & Marijane M.

"Dear Suzy, While traveling through New Mexico on a recent vacation, I had the misfortune of experiencing starter trouble with my car. Luckily I made it to Las Cruces where I discovered the friendliest people thanks to caring people like you and Lisa D. (of Enterprise Leasing Co.) , I was happily on my way with a minimum of delay. I would like to express my sincere appreciation for your help in expediting repairs to my van. I hope that if you ever find yourself in need of assistance while traveling in Texas that you encounter such helpful and friendly people as I did when I was in Las Cruces. Thank you again," - Greg N.

"Just a line to let you know we arrived in California just fine. Thank you for the excellent advice & excellent service to keep us on the road." - Parker W.