"Welcome to Alert Automotive Repair Services in Las Cruces, NM!"



"Skilled,
Honest Mechanics,
You Can Trust
Since 1976"



"We'll Treat You Right
at Alert Auto Repair
in Las Cruces!"
Automotive Performance Parts:

• Tuners
• Sensors


•

Exhaust Systems


•

Truck Accessories


•

Air Intake Systems
and much more

We are a full-service automotive repair shop in Las Cruces, NM. Locally owned and operated, providing Las Cruces with old fashioned customer service since 1976. At Alert Automotive Services, we've built a good reputation by taking care of our customers, and making sure they get honest, easy and informative car repair service.
You can rely on us for anything from preventive vehicle maintenance to major repairs on any car, truck, motor home, etc. Stop by for an honest diagnosis and the most cost effective way to fix it.
We use the AllData system and our auto repairs always meet, and often exceed, the specifications of your vehicle's manufacturer.
If you want a skilled, honest mechanic you can really trust, come see us at Alert Automotive Services.
• Mufflers
• Brakes
• Radiators
• A/C Service
• Tune-ups
• Diagnostics
• Electrical
• Foreign & Domestic
• Reasonable Rates
• Emergency Repairs
Contact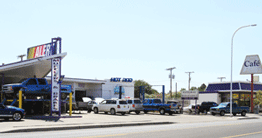 (575) 522-5150

Address
1505 S. Solano Dr.
Las Cruces, NM
Map & Directions

Hours
Monday - Friday: 7:30 AM - 5:00 PM