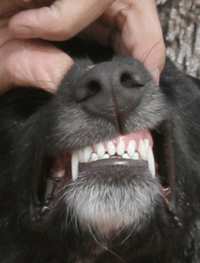 Over 70% of all dogs and cats over the age of three have some form of dental disease. Without proper care, by the age of six your pet will likely require Veterinarian intervention to prevent tooth loss and further damage to their overall health. 
Periodontal disease causes damage to the internal organs, which can severely shorten the life of your beloved pet. Cats with poor dental health often develop serious kidney problems as they age. Bacteria from infected gums, releases into the bloodstream and effects the body's organs, including the liver, the kidneys, and the heart. Microscopic lesions have even been found in the brain tissue of animals affected with periodontal disease. 

Small breeds and short-snouted breeds (or those with a bad bite) are more prone to heart issues and breathing problems, which makes them poor candidates for professional dental cleanings under anesthesia. It is suspected that only a few years of bacteria released from tartar build-up into the bloodstream causes heart damage. This heart damage in tiny breeds, such as Yorkies, results in lesions and heart murmurs that prevent them from ever having any anesthetic procedures. Unfortunately there are NO known statistics being kept on the percentage of anesthetic deaths in veterinary medicine. You, as a responsible pet owner, must weigh the options available on your own.

Starting when your pet is young with daily brushing is best. Realistically, most pet owners do not do this kind of preventative maintenance. Some dry foods claim they will help clean your pet's teeth, but most dogs and cats don't even chew their food. If pets do chew they use their back molars, but most dry diets leave a residue which causes more plaque because of the high level of carbohydrates. Raw foods and grain-free moist foods are the best options. Dogs and cats almost always drink water after eating, rinsing away the deposits that moist foods leave in the mouth. Quality water additives will help facilitate the action of rinsing. Raw bones (NOT COOKED) have proven to be huge preventers and removers of tartar.
If you're interested in feeding raw treats to help prevent periodontal disease, try feeding your cats raw duck or chicken necks and your dogs raw turkey necks. If you'd like to feed your dogs raw knuckle bones and leg bones, make sure they are large enough that your dogs have to work to get their mouths around them. No rib bones or sharp cuts from the spine. Never leave your dog or cat unsupervised when chewing on things. Chews such as antlers, edible bones, pizzles, and tendons can facilitate tartar and plaque removal, especially in combination with tooth gels and water additives that help soften tartar. Pig ears and rawhides are NOT recommended, especially for small breeds. Large pieces can be easily chewed off and swallowed which can then get lodged in the throat or small intestine, requiring emergency surgery. Pay attention to the size of the chews. If your pet is a known gobbler, take away the pieces that are small enough to swallow but large enough to get lodged.

Begin by starting a regular dental regimen. For example, take turns rotating a raw bone, an edible chew, and a tendon type of chew throughout the week. Give these in the evening after your pets have eaten and a dental gel has been applied. Always use water additive and always supervise your pets' chewing sessions. Keep their sessions to less than an hour to keep them from damaging their teeth. Aggressive chewers may fracture their teeth, so listen for your dog "popping" the bone with their molars. Opt for the softer chews for these guys or a raw bone with lots of meat attached, then remove before they start trying to break the bone with their molars.

Finally, and most importantly, before starting any dental regimen with your pets, have your pet's teeth thoroughly examined by a veterinarian. If there are fractures or serious periodontal issues and your pet does not have heart problems and is healthy enough to go under anesthesia, the benefits far outweigh the risks for a thorough professional cleaning. Ask for antibiotic treatment before, during, and after the procedure as an extra precaution. Heart monitoring, blood pressure monitoring, and IV fluids are also recommended, if at all possible. Afterwards, keep up you pets' personal dental regimen to keep them healthy and living longer.
Article by Kat Lacy of Better Life Pet Foods in Las Cruces.