Bernadine Alvarez
The "Scissorhand Magician"
at Bernadine's Family Hair Salon


in Las Cruces, NM

Your Las Cruces Hair Salon!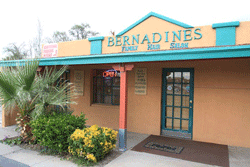 • Reasonable Rates
• Walk-Ins & Appointments
• Men - Women - Kids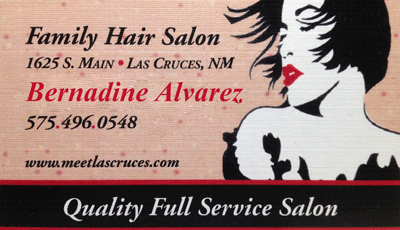 Bernadine Alvarez is a licensed cosmetologist, instructor and the owner of Family Hair Salon in Las Cruces, with over 35 years of experience in the field of cosmetology. She has a passion and love for the profession that is demonstrated by the compassion she shows her clientele. Bernadine's Family Hair Salon is a full-service salon in Las Cruces with a warm and cosy home-away-from-home atmosphere. For a relaxing salon experience, call Bernadine today!
Salon Services Include:
•

Color


•

Haircuts


•

Highlights


•

Kid's Cuts


•

Men's Fades


•

Multicolors


•

Perms


•

Shampoo & Sets

•

Facials


•

Manicures


•

Pedicures


•

Waxing

Contact
(575) 496-0548


Address
1625 S. Main St.
Las Cruces, NM
Map & Directions

Hours
Tuesday - Saturday: 9:00 AM - 5:00 PM
Sunday & Monday: Available Upon Request