My husband John and I went to Cuba for our honeymoon this past January 2017! We spent two wonderful weeks exploring this incredible island that remains in a time warp. We found the Cuban people to be very welcoming and especially excited to engage with us when they found out we were Americans! Cuba is a very easy county to get around in on your own and I would like to encourage people to do so, speaking Spanish is very helpful but not absolutely necessary.

The following information should help you plan your trip. I decided to call these write ups -
CUBA OFF THE LEASH - Getting there on your own!
PASSPORTS
A passport is needed to enter Cuba
Ensure that your passport has at least 6 months left till it expires, calculated from your departure date
There was a Passport Agency in El Paso - in order to be eligible to schedule an appointment with the passport agency you must be traveling internationally in less than 2 weeks or need to obtain a foreign visa within 4 weeks

CUBAN VISA
To pass customs in Cuba you need a tourist card. You can order this casual "visa" through the Cuban Embassy or Consulate in your country and some travel agencies and flight companies. Cuban Embassies and Consulates worldwide
You can also order your tourist card online though CubaVisas.com they ship the tourist cards to almost anywhere in the world. Tripadvisor indicates that people are very happy with their service http://www.cubavisas.com/visa.php?act=tcform&flight=yes&accom=no
The Moon Guidebook states that the "tourist visa is typically issued when you check in for your plane to Cuba"
Cuba Junky states "that most airlines won't let you board without a tourist visa but AeroMexico let us board and we didn't realize that we didn't have our visas until we were almost to Havana! BE SURE TO ASK WHEN CHECKING IN!
We were able to get our tourist visas at Jose Marti International airport in Havana but at huge cost and even then the kiosk was hard to find



U.S. CITIZENS: President Obama liberalized travel to Cuba (2014)
He did NOT end travel restrictions (that is the prerogative of Congress) and "tourism" (recreational travel) is still not allowed
The Department of Treasury's Office of Foreign Assets Control (OFAC) has issued general licenses for 12 categories of travel https://cu.usembassy.gov
The following are the 12 categories of licensed travel:

1. Family visits
2. Official business of the U.S. government, foreign governments, and certain intergovernmental organizations
3. Journalistic activity
4. Professional research and professional meetings
5. Educational activities
6. Religious activities
7. Public performances, clinics, workshops, athletic and other competitions and exhibitions
8. Support for the Cuban people
9. Humanitarian projects
10. Activities of private foundations or research or educational institutions
11. Exportation, importation, or transmission of information, or informational materials
12. Certain export transactions that may be considered for authorization under existing regulations and guidelines
FLYING THERE
We chose to fly out of Mexico on AeroMexico since it was so much cheaper than flying from the U.S.
Round trip tickets from Cuidad Juarez to Havana, via Mexico City were $417.45 (U.S. dollars) or 8,569 pesos per person, when I checked prices from the U.S. it was almost $1400.00 per person (El Paso to Houston then to Miami or Atlanta before going on to Havana)
In order to fly out of Mexico we needed to get FMM (Forma Migratoria Multiple) forms. These can now be completed online https://www.inm.gob.mx/fmme/publico/en/solicitud.html or https://www.mexperience.com/your-mexican-tourist-permit-fmm/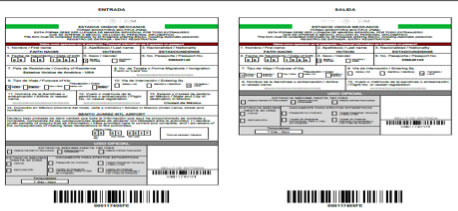 MEDICAL INSURANCE
Travelers to Cuba must have medical insurance
Travelers, who don't have medical insurance upon their arrival, can acquire insurance through Cuban insurance companies
We got our medical insurance through GeoBlue (www.geobluetravelinsurance.com)
MONEY AND CREDIT CARDS IN CUBA
Credit cards cannot be used if it is drawn on an American bank, this is part of the US embargo restrictions on Cuba. U.S. travelers cheques cannot be used either
Americans have to carry cash
Fortunately, almost all hotels have safes in the room. As for casa particulares mostly they are to be trusted, because the owners of a casa are too frightened to loose their licensee because something "bad" happened with a tourist in their home
We chose to be very prudent and always keep out cash in our money belts on our persons, we also did the same with our passports
You can change U.S. dollars but the Cuban government charges 12% interest so it is better to exchange another currency. We decided to order Mexican pesos, which we then converted to Cuban money (CUCs) once we landed in Havana.
The CUC is at parity with the U.S. dollar
The Cuban currency (moneda nacional) is the peso; it is also designated "$" and should not be confused with the CUC or US$, when we were there in January 2017 the peso was about 24 to the US$
CASAS PARTICULARES — Cuba's version of our B&Bs — offer the island's best lodging values by far
Legally licensed houses post a blue Arrendador Divisa sign, like an inverted anchor, on or beside the front door; those with a red sign are licensed to rent only to Cubans in pesos
Cuba-Junky's casa particular directory—the first to be available as an app—provides information about hundreds of casas that rent rooms, suites, or sometimes entire apartments (all of which, in Cuba, go by the name of casa particular)

The Cuba-Junky (www.cubajunky.com) casa directory app is current, convenient, and comprehensive. It provides casa photos, phone numbers, e-mail addresses, Facebook and website link and IT WORKS OFFLINE!

The price is per room not per person, so several persons sharing a room can save money
Internet is very spotting in Cuba so it is best to call for reservations rather than email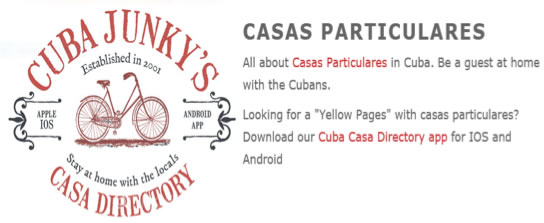 ELECTRICITY
Cuba operates on 110 volt electricity nationwide
Most outlets use U.S. plugs
CELLULAR PHONES
In 2008, Raul Castro lifted restrictions on who can own cell phones, since then cell phone use has rocketed
Verizon now covers Cuba (as of this writing in 2017), there is no need for a SIM card, just call Verizon Global Service 1-800-711-8300 to set coverage

Dial +1 and 10-digit# to call U.S.
For international support call +1-908-559-4899 or visit www.vzw.com/intltrvl

Depending on your plan:

Calls made and received: $2.99 per minute
Text: Send at $0.5; receive at $0.05
Pic/video messages use international data

TRAVEL INFORMATION
Cuba in general
Caribbean Tourist Organization – Official tourism website of the Caribbean
www.onecaribbeanorg
Cuba Web – Cuban government-run tourist-focused site
www.cubaweb.cu
Christopher P. Baker – Authority on travel and tourism to Cuba
www.cubatravelexpert.com
Lonely Planet – Guide to visiting Cuba
www.lonelyplanet.com/cuba
Cuba Junky - Cuba travel information, all info you need for your trip to Cuba and reviews
www.cuba-junky.com
Ministerio de Turismo – Portal of Cuba's Ministry of Tourism
www.cubatravel.cu
US. Treasury Department (OFAC) – What you need to know about U.S. law and Cuba
www.treas.gov/ofac
Cuba Update for 2016-2017 | Legal Cuba Travel Explained
http://legalcubatravel.com/
Cuba Si – Generic Cuban government site with sections on travel, culture, new, etc.
www.cubasi.cu
Cuba Standard – Excellent news site focused on economics, business and politics
www.cubastandard.com
Havana specific
Habaguanex – Site of the state entity that runs all tourist entities in Habana Vieja
www.habaguanexc.ohn.cu
Infotur – Information on tourist information centers in Havana (Habana)
www.infotur.cu
La Habana – Havana supersite, dedicated to the capital city
www.lahababa.com
Oficina del Historiador de la Ciudad Habana – Spanish-only site. Office of the City Historian relating to restoration projects, museums, hotels and sites of interest in Habana Vieja
www.ohch.cu
Click here for: VITAL INFORMATION - TRANSPORTATION - GETTING AROUND CUBA