L & M Limousine
Las Cruces, NM
The Finest Chauffeured Driving Experience Las Cruces
Has to Offer!
At Your Service 24/7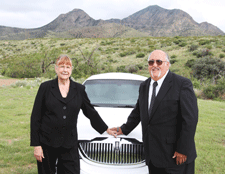 Linda & Mike Mullings
Owners/Chauffeurs at
L & M Limousine
Over 28 Years in the Limousine
and Transportation Business
Our Clientele
Our clientele are our number one priority. Over the years we have transported many stars coming to perform at the Pan Am Center in Las Cruces as well as those coming to perform in El Paso, TX. We transported many greats such as: Julio Iglesias, Stevie Wonder, Reba McEntire, Paul McCartney, John Denver, MC Hammer, Alabama, Oak Ridge Boys, U2, Paul Rodriguez and Cesar Romero just to mention a few. We treat all our clientele with the same respect and professionalism.
Whether you're looking to tour the Mesilla Valley, get to a Corporate Event in style, impress an Important Date, hit the hottest Nightclubs, or receive a prompt Airport chauffeur meet & greet, L & M Limousine will surpass your expectations. We create every package and service with your enjoyment in mind and provide sodas, bottled water, ice and barware in all limousines. Other amenities upon request.
L & M Limousine, serving Las Cruces and Southern New Mexico since 1986 with the Finest Chauffeured Driving Experience in the Southwest.
Key Customer Benefits
• Clean, Friendly, Professional Chauffeured Transportation
• Over 28 years of Limousine Services
• Service on Reservations 24 Hours a Day, 365 Days a Year
• Wedding Props Available on Request
• Open to Different Requests and Needs
• Limousine Services Provided in a Timely Manner
• Phone Accessibility for Changes Due to Airline Cancellations and Delays
Our Team
Our employees are carefully selected and trained to handle any situation in a friendly professional manner. We as employers have stayed active in the business over the years to keep up with the needs of our clientele. We are only a phone call away in case of an emergency, if not present on site. Our chauffeurs are properly attired and present a clean and neat appearance. We were the limousine service selected in the peoples choice award voted best for 2006, and we are continuing to improve our service every day.
Contact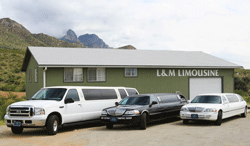 (575) 522-5411
Address
15180 Hwy. 70 East
Organ, NM
Map and directions
Website
landmlimo.com

Hours
24 Hour Service - 7 Days a Week
Call for Reservations

Personal or Corporate Ground Transportation and Airport Service


12 Passenger Lincoln Stretch 2007 Black
(Radio, CD, TV, DVD, Ice chests and buckets,
mood and decor lighting)


12 Passenger Lincoln Stretch 2005 White
(Radio, CD, TV, DVD, Ice chests and buckets,
mood and decor lighting)

14 Passenger SUV Ford Excursion 2005 White
(Radio, CD, TV, DVD, Ice chests and buckets,
mood and decor lighting)


Airport Transfers via Sedans and Limousines