"Linda, Jerry, Lydia & Oso (puppy) Welcome You to Lundeen's
Bed & Breakfast
in Sunny Las Cruces, NM!"
Available Accomodations:
•

Long-Term Accommodations


•

Weekly & Corporate Rates


•

Pets Considered if Owners Provide Kennels & a $15 Surcharge


•

All Major Credit Cards Accepted


•

10% Discount Offers to AAA, AARP &Travel Agents


•

Special Rates for Corporate & Government Travelers


•

Stroll the Spacious Art Gallery


•

Lecture Room & Exercise Room


•

Garden Wedding Chapel


•

Kitchenettes in Long-Term Accomodations


"Southern New Mexico's
Most Charming
Bed and Breakfast"
RATES FOR ROOMS:

Singles $79 to $89
Doubles $82 to $125
Suites $99 to $155

Includes a wide variety of
healthy breakfast entrees
and afternoon refreshments

The Inn of the Arts, Lundeen's Bed & Breakfast is located in the historic district of Las Cruces, just a short walk to the Downtown Mall where on Wednesday & Saturday mornings visitors may shop for an array of New Mexico's finest gifts and foods at the Farmer's Market. (Rated in the top 10 Arts and Crafts Markets in the country.) Follow the trail of Don Juan de Onate into La Mesilla (5 minutes away), and roam the streets of Billy the Kid and Pat Garrett while enjoying some of the nicest galleries and finest food in the world.
With seven widely different guest rooms, the Inn offers excellent accommodations for groups as well as individual guests. Each room is named after a famous New Mexican or Native American artist and is decorated accordingly. The Georgia O'Keeffe room in black, white, and gray, with calla lilies on the mantel.
Linda Lundeen is a native New Mexican and one of the State's leading art directors. Jerry Lundeen, raised on an Indian reservation in North Dakota, is a professional architect who studied architecture under Frank Lloyd Wright and Calvin Strauband and designed many of the Inn's unique features. See more of Lundeen & Associates Architects.
Linda takes a special pleasure in walking guests through the Gallery and introducing them to the artists who often visit the Inn. Jerry loves to visit with guests sharing his extensive knowledge of Southwestern architecture. Their special knowledge and deep love of the Southwest culture has inspired guests for over 25 years and kept many of them coming back.
The Inn is a center for a variety of special events and activities throughout the year. Jerry, a lay minister, performs weddings in the Garden Gazebo, a charming location for weddings, anniversaries, receptions and family reunions. Each year, Linda, a sponsor of the annual Las Cruces Art Hop, opens The Inn to art lovers and artists in the region.

The Lundeen Foundation hosts seminars in Southwestern architecture and literature, weaving, coiled pottery, silversmithing and hands-on adobe making. Every year guest "alumni" of The Inn, who have made Las Cruces their winter or year-round home, join in the Gathering Room to celebrate friendships and the joy of being there.

Contact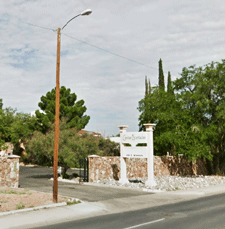 (575) 526-3326

Address
618 South Alameda
Las Cruces, NM
Map & Directions
Website
innofthearts.com

Hours
Call Anytime