Nopalito's Galeria
The Gallegos family opened the Nopalito's Galería in May of 2010 in an historic adobe home built in the late 1800's. Located in Las Cruces on the Old Camino Real, the oldest commerce trail in the Americas, linking Mexico City to Santa Fe.
The Galeria features regional artist's works along with hand-crafted Southwestern furniture and interesting arts and crafts from Mexico.
Don't forget to check out the wonderfully shady outdoor patio behind the gallery, which is available for graduation parties, Father's Day celebrations and other events.
After your gallery tour, head over to Nopalito's Restaurant, it's right next door to the gallery, serving delicious, world famous Mexican cuisine. See more here.

Contact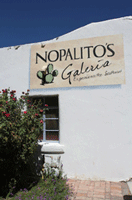 (575) 524-0003
Address
326 S. Mesquite St.
Las Cruces, NM
Map and directions
Facebook
nopalitos.galeria

Hours
Friday: 4:00 PM - 7:00 PM
Saturday & Sunday: 12:00 PM to 5:00 PM
Gallery hours vary for special artist exhibitions, talks, readings and presentations. See the Facebook link for more info.