When you shop at Better Life Pet Foods in Las Cruces, you are supporting a locally owned and operated business with exceptional service and the healthiest pet food in the Southwest. Holistic Pet Food from companies like Honest Kitchen, Fromm, Canidae, Pinnacle and several others.
We will meet or beat any price in town, and we are more than willing to special order food not regularly on our shelves - still at prices lower than our competitors. FREE delivery, within the Las Cruces area ($50 minimum order.)

For 19 years our goal has been to provide the healthiest natural pet food and pet products available to Las Cruces pets and their people in conjunction with the highest standards of service.
We also offer our famous Do-It-Yourself Dog Wash, Professional Grooming Services for both dogs and cats, and roomy cat kondos for boarding your furry friend.
Each of our hand-made kitty suites has its own hidden litter box, individual climbing tree, and set of carpet-covered steps for your cat to relax on. All Kondos come with comfortable bedding, filtered water, high-quality natural cat food and lots of attention. See Rates...
For salt water or tropical fish, pond supplies, reptile and bird supplies, and lots of other pet shop items, visit our 2nd location on Telshor Blvd.

Contact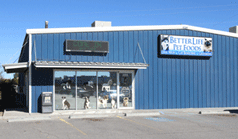 (575) 527-9265
(866) 826-7002

Address
365 Avenida de Mesilla
Las Cruces, NM
Map & Directions
Website
betterlifenaturalpetfoods
Facebook
BetterLifePetFoods

Hours
Monday - Saturday: 9:00 AM to 7:00 PM