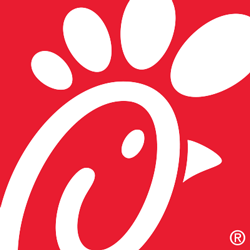 Chick-fil-A
"Home of the Original Chicken Sandwich"
Food You Can Feel Good About
We know eating well on-the-go can be a challenge. That's why we work hard to offer balanced options-- from our classic menu items made with high quality ingredients, to our new menu items for the nutrition-minded, like Egg White Grill and Superfood Side.
Real Ingredients
We're constantly working toward cleaner ingredients. Here's our latest milestones: Removal of high-fructose corn syrup and artificial dyes and colors from Chick-fil-A dressings and sauces- Removing high-fructose corn syrup from our buns- Reduction of sodium by 8% across 25 menu items, and up to 50% on others.
Start your morning off right with a delicious Chick-fil-A Biscuit, Breakfast Burrito, Breakfast Platter, Fruit Cup, Greek Yogurt Parfait, Multigrain Bagel or one of our many other freshly made menu items.
Enjoy one of our delicious, Chick-fil-A signature Chicken Sandwiches, Chick-fil-A Nuggets, Chick-n-Strips, a Tasty Salad, or maybe a bowl of Chicken Noodle Soup. Don't forget about those Waffle Potatoe Fries, Frosted Lemonade, Frosted Coffee, Milkshakes, and other beverages, and of course dessert!
Yummy Nuggets, Chick-n-Strips or Grilled Nuggets meals include a choice of a small side item (Cinnamon Apple Sauce, Waffle Potato Fries™, or Fruit Cup), a kid's size drink (organic and soda-free options available) and a special surprise.
Each Kid's Meal comes with a game. A plastic cube packed with experiential super-fun games to help kids learn executive function, a critical component for learning. Ask about Corduroy Board Books - Available for kids tree and under.
Chick-fil-A Catering is the easy and delicious choice for every occasion. From party trays, entrees, salads & wraps, sides & desserts, beverages and packaged meals, Chick-fil-A has got you covered! Orders can be picked up or delivered.

Contact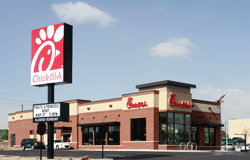 (575) 524-2888
Address
2091 E. Lohman Ave.
Las Cruces, NM
Map and directions
Facebook
CFALohman
Website
chick-fil-a.com/Locations/NM/Lohman-Avenue

Hours
Monday - Saturday: 6:30 AM to 10:00 PM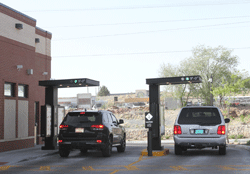 Two Lanes for Faster Service!