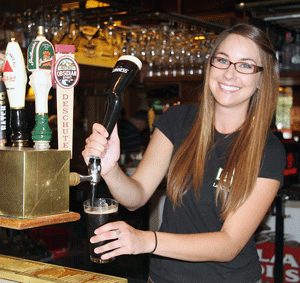 "Come On Over to Dublin's Street Pub
in Las Cruces, NM "
New Daily Specials
• Sunday - $2.50 Michelob Ultra, $11.99 for 2 Rolling Rocks & a Cheese Pizza - All Day
• Monday - S.I.N. - Service Industry Night! Join us every Monday after work and get sinny with it!(na na, na na na) $2.50 Dos Equis - All Day. $2 Bud Light & Coors Light, $3 Fireball, $4 Big Long Islands

• Tuesday - GEEKS WHO DRINK live trivia pub quiz. All you trivia gurus are encouraged come join the quiz that runs from 8:00 PM to 10:00 PM for your chance to win one of our many prizes including a $25 Gift Certificate, Free Food, and many more! $2 Domestic Drafts & Well Drinks

• Wednesday - WAY BACK WHENDAYS with Hodgie (Old School Music) 10:00 PM to close. $2.50 ShinerBock & Shocktop - All Day. Hot Dog Specials 3:00 PM to 11:00 PM

• Thursday -OPEN MIC NIGHT with Matt Morgan. Check out some of Las Cruces' hidden talent or show some of your own. 10:00 PM to close. $2.50 Blue Moon & AmberBock - All Day
• Friday - SING & SPIN (Karaoke & Spin Prize Wheel) 10:00 PM to close. $2 Rolling Rock, $3 Margaritas

• Saturday - DJ's hosted by PartyTenders 10:00 PM to close. $4 Guinness, Boddingtons, Bass & Smithwicks and Half Priced Fried Mushrooms, Nachos, Fried Cheese & Fried Pickles 2:00 PM to 6:00 PM
"Specials are subject to change"
Dublin's Street Pub in Las Cruces, NM has become known as a great place to unwind and have a cold one, a humble neighborhood Pub with hot, flavorsome food and Irish hospitality with a New Mexican twist. We provide a social gathering place offering high quality food, drinks and entertainment in an upscale, relaxed atmosphere.

Dublin's offers a broad menu of mid-priced appetizers, entrees, pub burgers, sandwiches, salad, pizzas and desserts served in generous portions.

Dublin's also features a full-service bar stocked with an extensive selection of premium local, imported and specialty beers on draft. Kick back in our high energy environment with satellite coverage of a variety of sporting events. Join us for our several themed party nights and for all the big games. We look forward to seeing you at Dublin's Street Pub in Las Cruces.
MONDAY - FRIDAY

Happy Hour
11:00 AM - 11:00 PM
Half Priced Appetizers
4:00 PM - 6:00 PM
Contact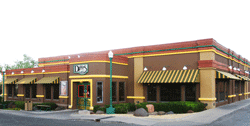 (575) 522-0932

Address
1745 E. University Ave.
Las Cruces, NM
Map and Directions
Website
dublinsgrill.com
Facebook
Dublins-Street-Pub

Hours
Monday - Saturday: 11:00 AM - 2:00 AM
Sunday: 11:00 AM - Midnight