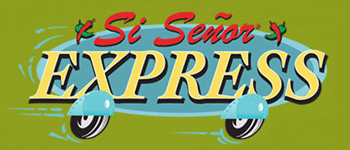 Si Señor Express in Las Cruces, NM offers a wonderful selection of freshly made Mexican Food dishes. From breakfast and lunch burritos to Enchiladas, Flautas, Nachos, Tacos and much more. Plus, you can order all the traditional dishes served at the main dine-in Si Señor Restaurant as well.
Drive-Thru or Pick-Up
Great Mexican Food On-the-Go! Si Señor Express uses 100% Canola Oil to cook all your favorite dishes. Our Salsas are freshly made in our kitchen and our corn tortillas contain no cholesterol, no trans fat, no saturated fat and no sodium. Our flour tortillas contain no cholesterol, no trans fat and no saturated fat. Serving with 'YOU' in mind.
Catering Service
Whether you need catering for a group of 20 or 500 people, Si Señor Express can handle it in their 2,800 sq. ft. kitchen!
Free delivery for orders of 50 people or more. Our Free delivery area is the city of Las Cruces, out of city deliveries are subject to travel expenses. Ask manager for details.
Check Out
The Si Señor Menu and
The Si Señor Express Menu

Then Call to Order...It's That Easy!!!
Contact
(575) 993-5255
Website
sisenorexpress.com

Address
500 S. Solano Dr.
Las Cruces, NM
(Corner of Solano and Lohman)
Map and Directions

Hours
Sunday - Thursday: 7:30 AM - 9:00 PM
Friday - Saturday: 7:30 AM to 10:00 PM