Welcome to Rockin' Jump
The Ultimate Trampoline Park
in Las Cruces!
Dedicated to Safe. Clean. Fun.™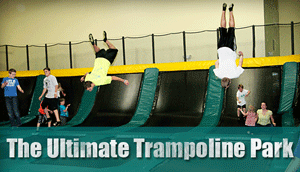 Save Time When You Arrive
Fill Out and Sign
Your Liability Waiver
in Advance
Click Here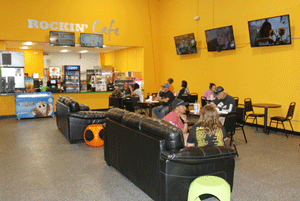 Rockin' Food
Iced & Regular Coffee, Pizza,
Hot Dogs, Chicken Strips, Nachos
and Other Goodies at
Our Rockin' Café!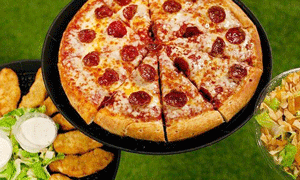 FREE Wi-Fi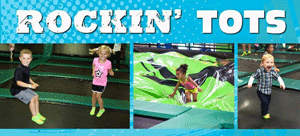 Rockin' Tots Jump Time
Tuesdays, Wednesdays & Saturdays
9:00 AM to 11:00 AM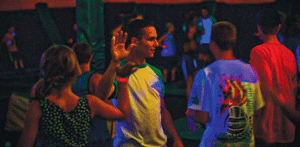 Rockin' Fridays Blacklight
Jump Time
Mix and mingle with friends
while jumping to today's top hits
8:00 PM to 10:00 PM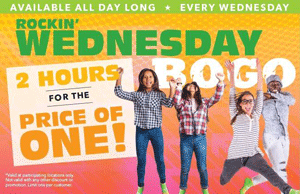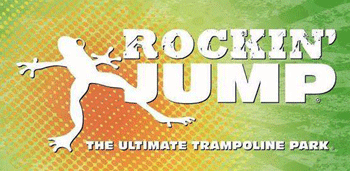 There is something for everyone at the Rockin' Jump Las Cruces indoor trampoline park, whether you want to climb, jump, dodge, dunk or relax and have a bite to eat, we are the place for you.

Soar in open jump arenas, fall into pools of soft foam cubes, play trampoline dodgeball, do flips and somersaults, or climb a rock wall.
Rockin' Jump is also a great place for birthday parties, family gatherings, grad night parties, team parties, and all sorts of other events.

At ROCKIN' JUMP Trampoline Park of Las Cruces you get the exercise you need and lots of laughs along the way!
Sling Shot Air Jumper
Ready for an exhilarating exhibition of pure excitement? Want to get really big air? Fly high in another of our newest attractions, the Slingshot Air Jumper! You'll fly to an altitude of up to 20 feet high for a flipping frenzy right side up and upside down!
X-Beam
There is nothing like a little friendly competition and here's your chance to show everyone what you got! Choose your padded lance, and have a blast as you work to maintain your balance while trying to knock your opponent from the beam. Someone has to be the X-Beam Champion! See if you have what it takes in Rockin' Jump's super popular challenge attraction.
Slam Dunk Zone
Not in the NBA yet? You'll feel like you are! Slam Dunk Zone, where you can slam dunk like a pro on trampoline launch pads that can bounce you high in the air. Show off your dunk today!
Dodgeball Arena
We combine the thrill of classic dodgeball with the excitement of The Ultimate Trampoline Park®. A great time for birthday parties, group and corporate events, and field trips.
Open Jump Arena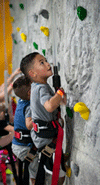 Open Jump Arena is our main jumping and fun zone where friends jump together and perform acrobatics while our Rockin' Jump staff monitor safe play from all angles.
Rock Climbing Wall
Have fun while working on your strength and agility with our rock climbing wall!
Stunt Bag
Feel the freedom of flying, flipping and jumping, in a JumpSafe®, clean environment. Here's your chance to have a 'stunt performer' experience enjoying the exhilaration of flipping and jumping into an air-filled stunt bag!
Contact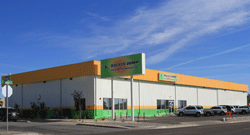 (575) 339-0005
Address
805 S. Solano Dr.
Las Cruces, NM
Map and directions
Website
lascruces.rockinjump.com

Facebook
RockinJumpLasCruces
Twitter
RockinJumpLC
Instagram
rockinjumplascruces

Hours
Monday - Closed
Tuesday
Rockin' Tots Time 9:00 AM - 11:00 AM
Open Jump for Everyone - 4:00 PM - 8:00 PM
Wednesday
Rockin' Tots Time 9:00 AM - 11:00 AM
Open Jump for Everyone - 4:00 PM - 8:00 PM
Thursday
Open Jump for Everyone - 4:00 PM - 8:00 PM
Friday
Open Jump for Everyone - 4:00 PM - 8:00 PM
Rockin' Fridays - 8:00 PM - 10:00 PM
Saturday
Rockin' Tots Time 9:00 AM - 11:00 AM
Open Jump for Everyone - 11:00 AM - 8:00 PM
Rockin' Saturdays - 8:00 PM – 10:00 PM
Sunday
Open Jump for Everyone - 12:00 PM - 8:00 PM