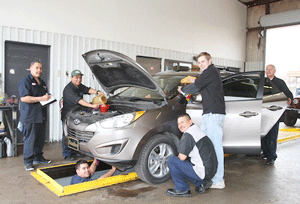 "The Best Place to Get Your
Oil Changed
in Las Cruces, NM! "
Roper's Lubri-cator!
FREE Pick-up & Delivery
in the Las Cruces Area!


Dedicated Auto Repair Area

Lowest Labor Rates in Town!


Services:
•
Oil Change

•
Most Major Brands of Oil

•
25 Point Inspection

•
Radiator Flush & Fill

•
OBD - 2 Diagnostic Check

•
Headlight Restoration

•
Car Wash - Self or Full Service

•
Minor Repairs - Plugs, Belts, Brakes,
and more


Roper's is a full-service oil change and lubrication shop, serving Las Cruces and surrounding areas for over 30 years. Locally owned and operated by 3rd generation Mesilla Valley farmers.
Roper's offers customers more than just a standard oil and filter change. Our preventive maintenance program helps to enhance the reliability and longevity of your vehicle, to help keep you and your vehicle on the road, and out of the repair shop.
No appointment needed, just drive up and our knowledgable technicians will provide you with a comprehensive and worry-free preventive maintenance experience.
Contact
(575) 526-3912

Address
1888 S. Espina
Las Cruces, NM
Map & Directions

Hours
Monday - Friday: 8:00 AM - 6:00 PM
Saturday: 8:00 AM - 5:00 PM
Ask for Your
Free Oil Change Card
(Purchase 5 Oil Changes
and the 6th is FREE!)