The Truck Farm
Your Gift & Gourmet Food
Shop in Las Cruces, NM!




Salsa, Salsa and More Salsa!
"Gourmet Foods of the Southwest"


Cooking Up Another Batch of
Our Famous Salsa!


Southwestern Gourmet Gifts
at The Truck Farm
Las Cruces, NM

The Truck Farm is a family owned and operated Gourmet Southwestern Foods manufacturer located in Las Cruces, NM. Manufacturing specialty chile products since 1998. Looking for that perfect Southwestern gift idea...how about a gift basket with colorful jars of salsa, hot sauces, and other gourmet condiments.
The Truck Farm's "Besito Caliente Gourmet Sauce" and their "Sweet Hots" are world famous and quite delicious! Come into their shop in Las Cruces or order online.
•

Tia Rita's Southwestern Mixes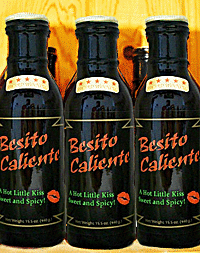 •

Gourmet Coffee


•

Besito Caliente


•

Cherry A'More


•

Sweet Hots Mild & Hot


•

Green & Red Specialty Chiles


•

Cannon Green Chile Fire Salsa


•

Desert Farms Gourmet Condiments


•

Gift Baskets and Shipping


•

Wholesale & Retail

Contact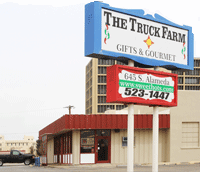 (575) 523-1447
(800) 214-6639
Address
645 S. Alameda Blvd.
Las Cruces, NM
Map and Directions

Website
www.sweethots.com
Facebook
The-Truck-Farm

Hours
Monday - Friday 8:00 AM to 6:00 PM
Saturday 9:00 AM to 5:00 PM