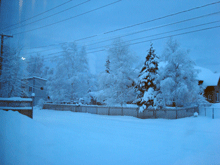 Despite the fact that the Northern Lights often dip down into the Lower 48 and that we lived in northern Germany, we had never seen the Aurora Borealis. This is supposed to be a good year for them so we booked a tour with Alaska Northern Lights, run by Ben Boyd. It was an excellent tour and we did enjoy it.
We arrived at night and the next morning when we looked out the window our eyes saw a fairyland of snow and ice but we were warm inside one of the most comfortable B&Bs (All Seasons Inn) in Fairbanks. Our hostess was absolutely delightful and prepared a very hardy and enjoyable breakfast for us. Since the tour was all inclusive, our other meals were provided at different restaurants in Fairbanks by Ben Boyd.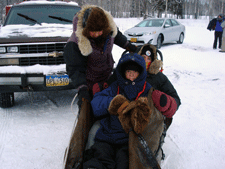 Our first day Ben Boyd had arranged the dog sled ride we had signed up for. We bundled up and were driven out to the Chema River where we met our 'musher' and her wonderful team of dogs. We were further bundled up in warm coats, warm pants, in 'bunny boots' and mittens. We were so bundled up we could hardly move and then once on the sled we were wrapped up some more.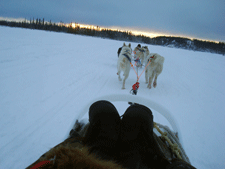 Then we were off!! You could tell that the dogs were having a great time just running and we were having a great time riding. It was a fun wild ride and we did enjoy it.
Ben Boyd has a wonderful background in the culture and the people of the North and he freely shared that with us as we toured the Morris Thompson Cultural and Visitors Center and throughout our time together.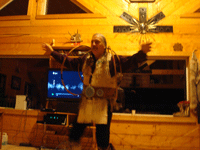 We were also given a performance of the Indian Hoop Dance by him one evening while we were waiting and hoping to see the Aurora Borealis.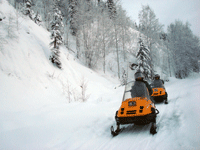 Having never been on a snowmobile, we were very excited when there were two available for us to ride at the Chena Hot Springs Resort. We each had our own! Again we bundled up and were again bundled even more to head out into the woods. You ride the snowmobile the same way you ride ATVs only in snow. I really enjoyed it and I could see that I could easily get addicted to the riding of these fun machines.
Photos and story courtesy of Bob & Wilma.