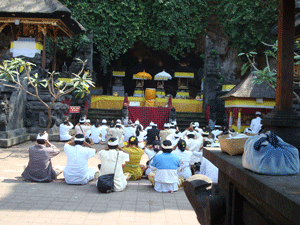 Bali, the beautiful "island of the gods," is part of the country of Indonesia, but so unlike the rest of the country. It is a spiritual place filled with joy, ceremony and tradition.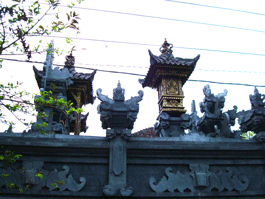 Every house has at least one shrine or small house temple, then there are the village temples, usually three in all, and last there are the most sacred temples of all and those encompass all of Bali.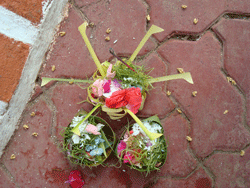 Offerings to the spirits are found in many places and are so wonderfully colorful. Hinduism is the religion of Bali but it is very unlike that practiced in India as it has elements of the native beliefs of Bali.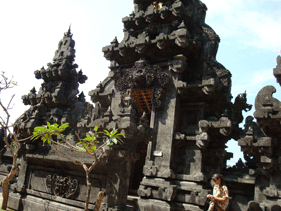 Bali"s arts come out most strongly in their music and architecture, especially the architecture of the temples.
The temple buildings are tall and very pagoda like. Many are of stone and because there is a fear of empty spaces, every square inch is carved.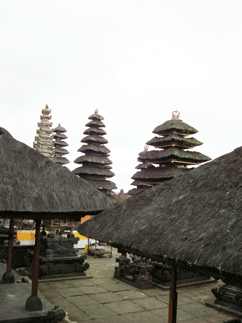 Roofs are of a pleasing shape and are mostly thatched.
To enter a temple one must wear the traditional dress of a SURONG and scarf which we bargained for outside the first temple we entered.
We were in Bali in August which we were told was a very auspicious month for cremations. We saw a number of them and were encouraged by our guild to join in the festivities, and they were festive.
Cremations are expensive events so they are often delayed for long periods of time by temporary burials.
More than the body is burned in a Balinese cremation, as the body is carried to the cremation grounds in a tall multistory tower of bamboo, paper, string, silk, flowers and many other colorful things.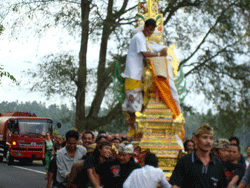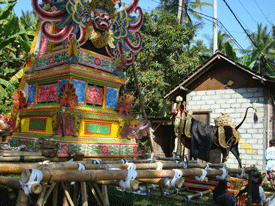 Depending on the size of the tower, it is carried to the cremation grounds on the shoulders of many men, with a priest hanging on half way up sprinkling the participants with holy water. At the cremation ground, it is burned amidst much gaiety.
Photos and story courtesy of Bob & Wilma.