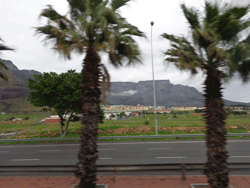 Cape Town has a reputation as the 'Mother City' of South Africa. It is indeed old, but very beautiful and easy to enjoy and love. The 3530 ft. high Table Mountain stands above it and a trip up it is a must.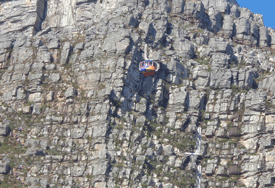 The top is reached by an amazingly fast cableway. It only took three minutes up and three minutes down and the car revolved as it went giving us a 360* view of the mountain below.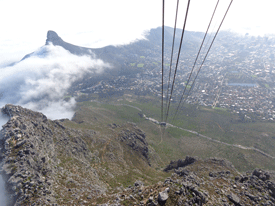 The view from the top of the city below was wonderful.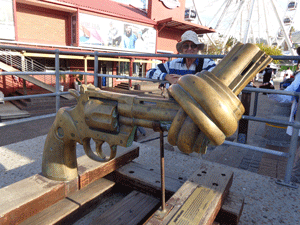 The Victoria & Alfred Waterfront is a historical working harbor but it is also a fun and interesting destination. It is filled with shops, eateries, art, performers, games and even seals.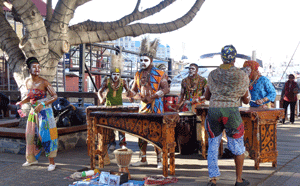 There is also a diamond museum where we witnessed the cutting of a diamond and saw a replica of the Hope Diamond.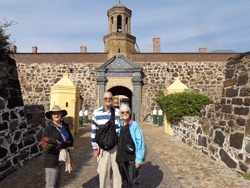 Castle Good Hope is in the heart of the city. It was built by the Dutch between 1666 and 1679 to protect the city. It is the oldest structure in the city and is built in the shape of a five pointed star.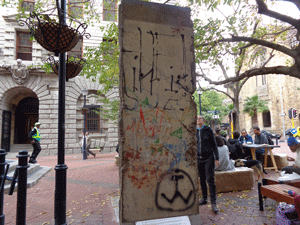 It was interesting that a wall divided the inside into two halves. Nearby in the city, is another wall, a section of the Berlin Wall that had been a gift to Mandela from Germany when he had visited there.
There is a large Malay and Muslim population in Cape Town. They are the descendants of slaves that had been brought in 1658 and forward. When slavery ended in the 1830's they settled on the slopes of Signal Hill which is now known as Bo-Kaap.
Many of the homes here are historic and they are brightly painted. It was a treat for us to be able to visit in one of them and enjoy some spicy treats.
These are just some of the highlights of Cape Town though there are many many more. The many green spaces and art works through out the city are especially delightful.

Photos and story courtesy of Bob & Wilma.