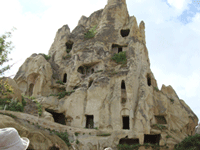 Cappadocia is a unique area in central Turkey with tall sand stone formations called 'fairy chimneys', many with capstones on their top. They were formed by the erosion of the thick layers of volcanic ash which was laid down by two volcanoes. The ash harden into a soft porous stone called tuff.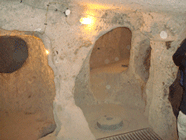 The area looks much like a moonscape. This tuff was easily worked with simple tools and the people soon learned that strong comfortable homes could be dug into these formations.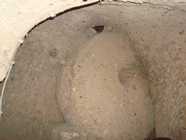 When the inhabitants were threatened by invasions they literally went underground carving whole multi-level cities deep into this tuff closing the entrances off by rolling huge wheel shaped stones in front of them.
When the Christians arrived they found that beautiful churches could also be carved into this soft tuff. As the Christian communities thrived, so did their art and their churches became a unique art form.
Centuries later, the Silk Road crossed near this unique area of strange and weird formations.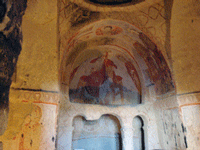 There are a number of caravanserai along the road leading here, some in ruins, some restored and one even used as a restaurant.
Art in the form of rug making and pottery now thrives here and is a viable part of the economy and the character of this special and unique area of Turkey.
Photos and story courtesy of Bob & Wilma.