In Sept. 2001, Bob and I did an Earthwatch water research project in the Gobi Desert. The Gobi has the highest sand dunes in the world and within those dunes are small desert lakes.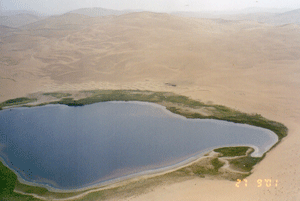 The project was to examine why the water in these desert lakes are drying up using water and soil samples, spring water samples, and weather readings several times a day.
There is also 5000 years of archaeological evidence which we looked at but did not research.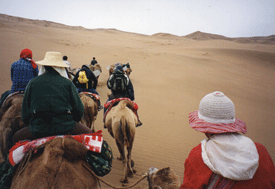 The lake we were going to do research on was in the hinterland of the Badain Jaran Desert requiring a three day camel ride.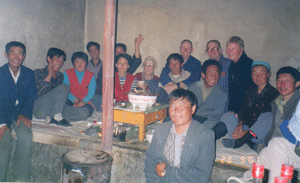 The research we did for Earthwatch paled in comparison to the anthropological experience we received from our interaction with the residents at the lake.
The camel crew that took us in and the Earthwatch employees who prepared our food and ran the research were amazing.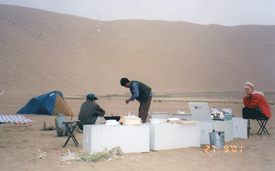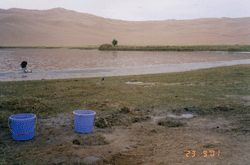 There were no facilities in the desert so we camped out. Since we could not bring enough water along with us on the backs of the camels and we couldn't use the water from the lake as it was too saline, we got our water from holes dug near it and then boiled it.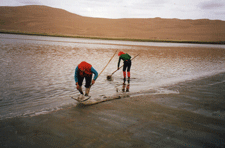 Though we did not use the eggs from the red water bugs in the lake, it was a source of income for the family that lived by the lake because these eggs are a delicacy to the Chinese.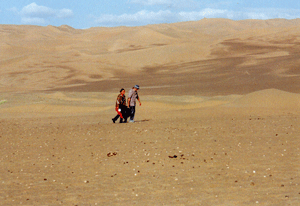 We learned to use and gather camel dung around our camp for the cooking of our food and our campfire because of the lack of other more familiar fuel and because it is almost completely dry when defecated.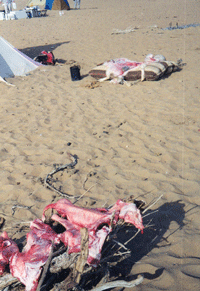 While sitting at breakfast one morning, a goat was being pulled from the corral of the Mongolian family, to the camp of our camel crew. Bob jokingly said "lunch" but it was no joke, it was lunch. The critter was slaughtered and butchered right there on it's skin and we feasted, toasted and fellowshipped on it for lunch.
That wasn't the end of the story. One of the camels had a bad tooth and the c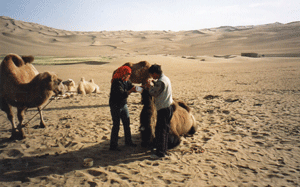 amel owner extracted it with a pipe and forced the goat's liver down it's throat for nourishment.
These are just some of the experiences that have enriched our lives and respect for other cultures. Getting to the Gobi is another adventure to be told. This project was quite an experience BUT so was the adventure of getting here, which I will write about later.
Photos and story courtesy of Bob & Wilma.