While looking for an interesting, short yet parsimonious trip out of the country, we stumbled onto flights to Quito, Ecuador. Ecuador is a small country high in the Andes Mountains of South America and sitting right on the equator. It has four diverse regions and is probably best known for the Galapago Islands which we did not get to as we remained in the chilly high mountains of Quito.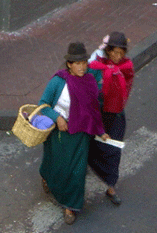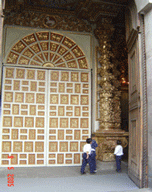 There are a large number of ethnic groups in Ecuador and some still practice their ancient cultural traditions and wear their traditional costumes. An added benefit was that they use American dollars as their currency.
Quito was established in 1586 by the Jesuits who were deep into the arts and taught them to the locals thus Quito has many beautiful structures. Some of these structures are greatly embellished with gold as is the La Companin de Jesus and the Cathedral.
The whole town has a wonderful air of history and uniqueness about it, like the ice cream parlor, Heladeria San Agustin, where the same family has been making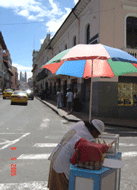 ice cream for 140 years.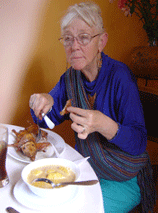 The streets are also so walkable and basically narrow with pleasant quiet restaurants many serve the local and traditional foods including the delicacy of guinea pig which date back to the time of the Incas.
Quito is best known for being the Middle of the World, where the equator divides the earth into the North and South Hemispheres.
This park is an easy bus ride from town and is marked by a quadrangular pyramid with a metallic globe on top.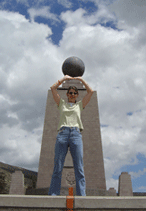 A painted line marking the equator runs through the whole park and straddling it is a must for any genuine tourist.
Photos and story courtesy of Bob & Wilma.