We recently had a wonderful experience visiting the Baltics. These are three little countries that I knew so very little about because most of my life they had been ensconced in the USSR after being battered by the Nazis in World War II. After only 22 years of independence, they are remarkable countries.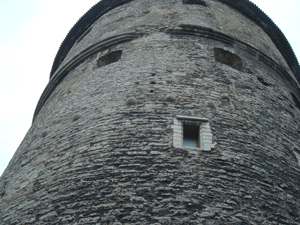 Tellinn, the capital of Estonia, is still a walled city. The medieval walled cities began to develop in the 13th century and with improvements and additions by the 16th century Tellinn had one of the strongest fortifications in Europe. Nearly a mile of the wall still remains, inner spared with 20 towers and parts of two outer gates.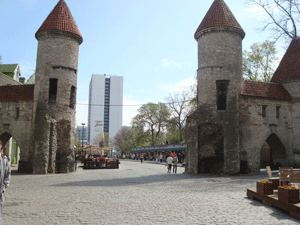 Kiek in de Kok (Peep into the Kitchen) Tower, so named because the soldiers manning it could peep into the kitchens below, has cannon balls embedded in it from the Livonian War. You can walk along the top of the wall in several areas and look over the tops of the roofs and into the courtyards and streets of the town below.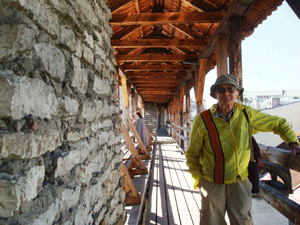 Within the walls of Tellinn, is the old medieval town with its winding cobbled streets and alleyways.
Unique art is sometimes placed in little nooks and crannies in half hidden lanes, in courtyards or between the old stone buildings. For eight hundred years, the Town Hall Square has been the heart of the Old Town and is found easily by navigating toward the tall tower of the 1404 Town Hall.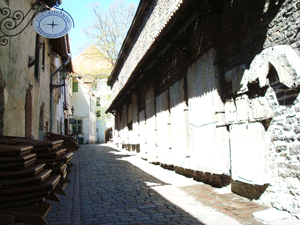 The historic, Peppersack restaurant is just behind it and serves wonderful meals with the wait staff dressed in period costumes.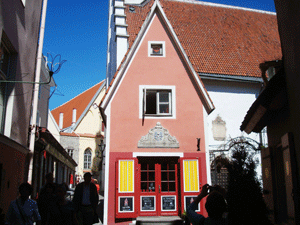 But Tellinn is not all old it also is new and modern.
Outside the wall, we found several shopping malls, stacked in modern buildings with fun, interesting and well stocked supermarkets.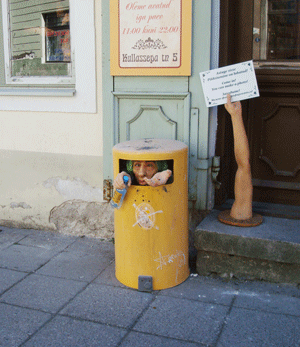 Photos and story courtesy of Bob & Wilma.