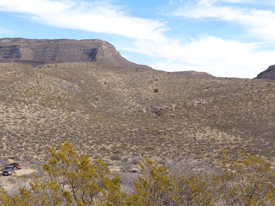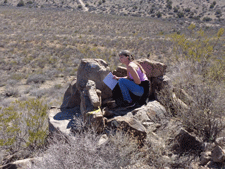 The Hembrillo Battlefield is an important but little known battlefield located on a closed military facility in south central New Mexico. The battle was fought in April 1880 between the Chiricahua and Mescalero Apaches, lead by Victorio and the "Buffalo Soldiers" under Col. Edward Hatch. It was the largest and most important battle fought in 'The Victorio War'.
This battlefield was closed off to the public just 60 years after it was fought and because of its isolation has retained much of the its archaeological and historic value.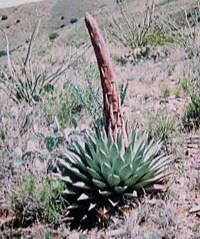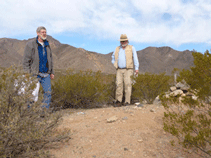 In 1988 a contract was given to Human Systems Research, Inc., a local contract archaeological non-profit, to record the battlefield. They, with 59 volunteers, surveyed and metal detected 900 acres locating over 800 cartridges which were later analyzed with police-style forensics. With this forensic evidence and Victorio's defensive breastworks, the battle lines could be followed.
In 2004, Human Systems Research, Inc. was again contracted to locate and survey the scrimmage which had taken place the day before. Again volunteers and metal detectors were used for this surveying and recording.
Hembrillo Canyon had long been used by many of our Native Americans as attested to by the agave roasting pit just at the mouth of the canyon which had been excavated in early 2003.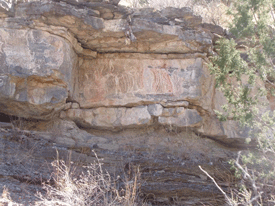 Springs in the desert are refreshing and important and above the dried one in the canyon are pictographs of red hands or maybe they are Bloody Hands and near by are depicted Apache Gan or Mountains Spirits who are no longer able to protect their people, the Apache.
This battle was fought by three races, none of which believed in it and in the end all of whom lost, in reality, all of us lost!!
Photos and story courtesy of Bob & Wilma.