Adventure is an important part of our travel. So, when we learned about an Earthwatch project that would take us to Inner Mongolia, it sounded like a wonderful adventure. We got the documentations and were off the first part of Sept. 2001. Yep!! We were in Yinchuan, China on 9/11 and totally in the dark until we turned on the TV and were still in the dark as everything was in Chinese. We learned the situation from a passerby then got details by e-mail from home. It was a scary time and half of our team could not get here but the project did go forward -- life does not stop.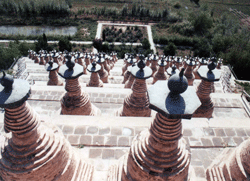 While we were waiting for our team to meet, we hired a taxi and went out to The 108 Pagodas. These are probably the repository of the ashes of Buddhist monks and date from the Xia Dynasty. They stand 4/5 feet high and form an isosceles triangle on the hillside. The Yellow River was near by and within sight most of the trip and also near the town.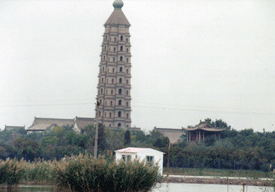 While waiting to join our team, we also visited the local museum and a temple in the town of Yinchuan .
We met our team, Dr. Wei-Zu Gu, a cook, a manager and then our teammates (one from Holland and one from Australia).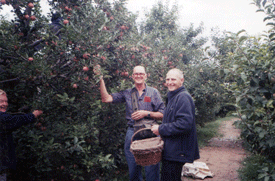 The first experience was an incredible feast of unlimited dishes then it was off. Not too far along the way, we stopped to procure apples in an apple orchard and, wow!! the bargaining. We drove by the conical artificial grave mounds of Xi-Xia Dynasty dating from the 11 century and which we visited on our return.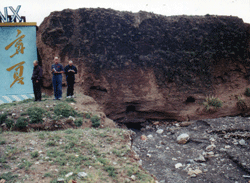 To go to Inner Mongolia, one has to cross the Great Wall and we did. It was a section of the oldest part of the Great Wall dating from the Chin (Qin) Dynasty 221- 207 BC. It is in ruins which gave us a good understanding of it's makeup.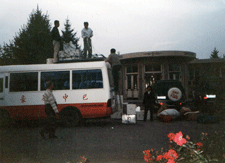 We spent several days in Alxa Zuazi while the final preparation to the project was being done. We did visit a historical temple that had been spared during the Cultural Revolution. When things were ready we loaded the bus up and finally headed out.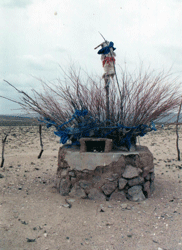 On the way to the last town before base camp we passed and stopped at an Ovoo, a Shaman Shrine to a nature god. They are usually in isolated places and are constructed of rocks and sticks. Offerings, such as vodka bottles, scarves, fruit, etc., are brought to the god. We did see other ovoos on the hillsides but did not go them.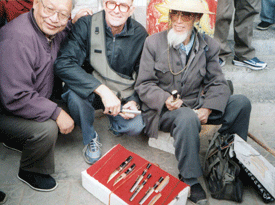 The final shopping was done in that last town (Alxa Youqi) and we were free to wander around. Bob found and negotiated a deal for a hand made knife from a very striking gentleman. We also had another feast, this with the officials of the town.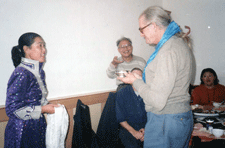 Here we experienced a neat traditional ceremony where we were served a bowl of wine, sung to by a lovely young woman in traditional Mongolian dress and had a blue scarf placed around our necks by her. Last stop was our base camp in the Gobi.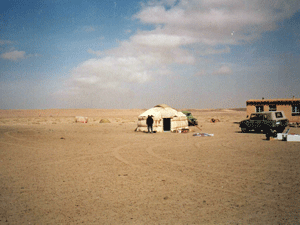 Photos and story courtesy of Bob & Wilma.