Malta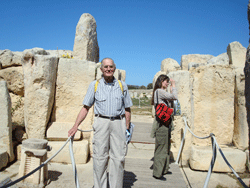 Malta is a small, lovely island in the Mediterranean Sea with a wonderful Mediterranean climate. Malta is too small to support a hunting and gathering society thus it's history dates to about 5000 BCE with the farming then to the temple builders.
Who built these temples is a mystery, maybe the farming society that lived here or maybe a group that moved in.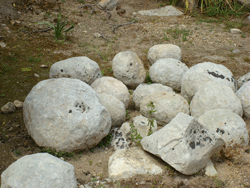 They are massive and predate The Great Pyramid of Cheops. The huge stones were amazingly moved on round stones like bearings.
The most unique temple is the Hypogeum, carved out of rock and totally underground, consisting of halls, chambers, and passages.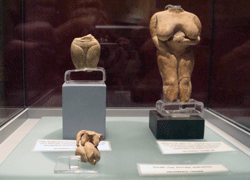 It appears that the temples were built for the large hipped fertility goddesses as many have been found in and near them.
There are also, from this period, some strange parallel grooves carved in the surface stone looking like "cart ruts."
The Phoenicians colonized Malta and lost it to Rome in 218 BCE. Malta seemed to have prospered under the Romans as is seen by the ruins of townhouses, farms, baths and the beautiful mosaic in the ruins of a Roman villa.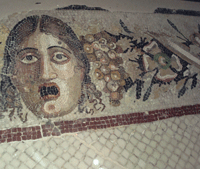 To counter the Arab rule and take it back for Christianity, Malta was given to the Knights of St. John. The harbor was fortified, hospitals built and the St. John's Co-Cathedral built. Many old and beautiful grave stones pave the floor.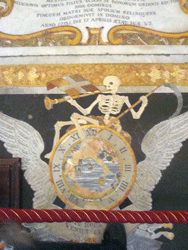 The Co-Cathedral owns an excellent collection of Albrech Durer's works. Valletta was greatly embellished by the Knights.
Malta passed into the hands of several foreign powers and though severely bombed during World War II it never fell to Italy nor to Germany and was the backbone of defense in the Mediterranean. Malta finally becoming independent in 1964.

Photos and story courtesy of Bob & Wilma.