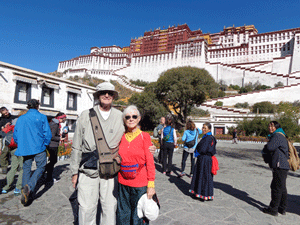 Lhasa is the capital of Tibet. It has been the seat of government off and on for more or less 1300 years but it has been, without a doubt, the religious heart of Tibet for centuries. The identity of Tibet cannot be separated from Buddhism nor Buddhism from the Potala.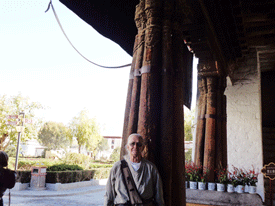 The former home of the Dali Lama, the Potala, perched on the top of 'red mountain,' overlooks the city and can be seen from almost every part of it.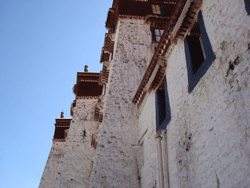 The Potala is an architectural gem!! It is built of earth, wood and stone and in some places reeds have been place over the walls to protect them.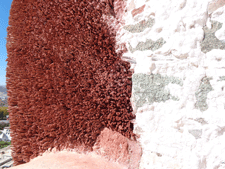 It consists of the Red Palace (the oldest section) in the center and the White Palace that flank both sides. The Potala raises 13 stories high reaching nearly 400', has over 1000 rooms, 10,000 shrines and probably 200,000 statues.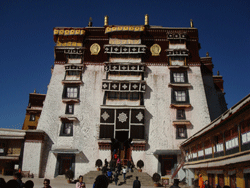 The walls at their base are two to five feet thick, have no steel framing or nails BUT molten copper has been poured into the walls to strengthen them and protect them from earthquakes.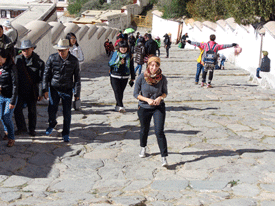 The Potala is reached by 300+ long, low stone steps geared for horses and palanquins.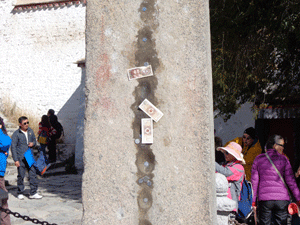 On the stairs are stone stelas where coins and money are stuck in cracks to bring luck to the giver.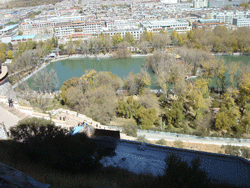 One exits the Potala by the North Gate from where one can see the Dragon King Pool which has an interesting and magical creation legend . Sadly no photography was allowed inside the Potala only on the outside.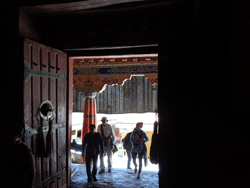 The Potala can only be toured on a guilded tour and it is not easy to get tickets to tour it. Reservations must be made days in advance and the tour is only one hour long and starts on time.
Photos and story courtesy of Bob & Wilma.