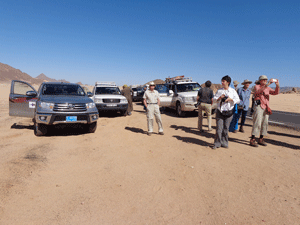 We had the incredible opportunity to go to Algeria to see the rock art of the Sahara Desert. The US has a travel warning of traveling to and in Algeria but through a friend we booked a rock art tour through a company in Denmark.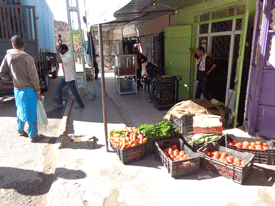 Our jumping off point for the Sahara was the village of Djanet which we flew to from Algiers, the capital. We were picked up at the airport by five 4-wheel drive vehicles. It was evening when we got there so we spent the first night in a hotel outside of Djanet.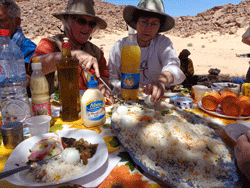 The next morning we were picked up by those same 4-wheel drive vehicles. We headed out. We stopped by the village for some supplies but were soon on the road again and soon after that we left the pavement.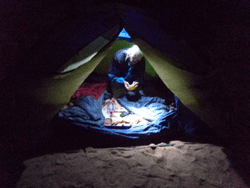 Before lunch, we had seen our first rock art and we had an wonderful lunch at the base of it.
All of our meals on this excursion were equally as delightful, colorful and tasty. Our tents and sleeping bags were provided for us and in the evening they were set up for us on the sand by our drivers.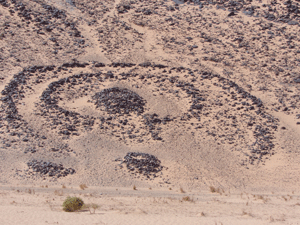 Several evenings, we had a campfire and one of those evenings we learned about baking bread in hot sand, which was a little gritty eating but an interesting experience.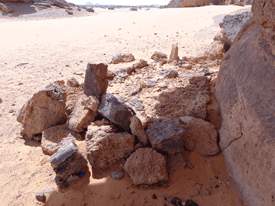 While in the desert, we not only saw beautiful prehistoric rock art but ancient royal tombs and several graves of the first desert dwellers.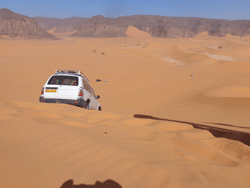 The 4-wheel drive vehicles gave us the thrill of a life-time as we would fly up a 1000 foot sand dune and decent the other side.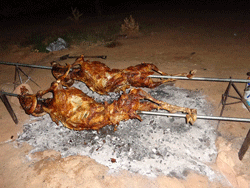 Our last night in the Sahara we sadly stayed in a hotel but feasted on goat roasted on an open fire.
Photos and story courtesy of Bob & Wilma.