Singapore is a delightful little corner of the world. It is an island nation, a sovereign city-state off of Malaysia, having declared it's independence from England in 1963.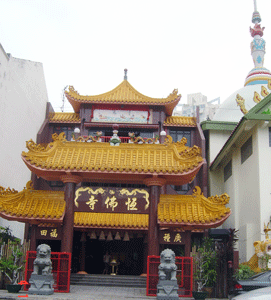 Singapore was founded by Sir Stamford Raffles as a trading post in 1819 and was important in the spice trade. It is now a major commercial hub, the world's 4th largest financial center and the world's 5th busiest port.
The name of a founder is used often in all parts of the world. In Singapore, Raffles name is used often though probably the most famous place is the Raffles Hotel. It is an elegant hotel built in 1887 and renovated to the era of 1915. This is where the original "Singapore slings" were created.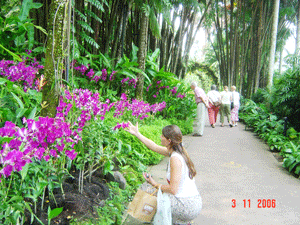 Lying just a 100 miles (+ or-) south of the equator, Singapore is very tropical and conductive to the growth of orchids. The National Orchid Garden is unsurpassed in the world. There are over 1,000 species and 2,000 hybrids of orchids and, because of the orchid breeding program, more hybrids are added every year.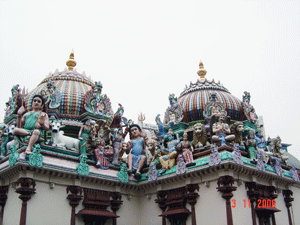 Singapore is the world's most religiously diverse nation which means there are many very unique and colorful structures to see, enjoy and experience. My favorite ones were the Hindu temples because of all the sculptures on them. The roofs of the Buddha's temples are turned up, like those in other parts of the world though a little heavier.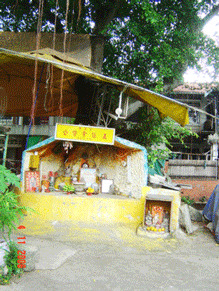 Though Singapore is a very modern nation, Shamanism is still strong and one is surprised by shrines in hidden places, around corners and by trees throughout the city.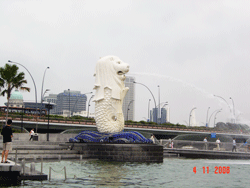 Merlion, the national symbol of Singapore, could easily be viewed as an old and ancient shaman image but it is not. The half fish half lion statue that greets one at the mouth of the Singapore River was only created in the 1970's by marketers but it is a delightful image as one rides in a boat on the river with the city in the background.


Photos and story courtesy of Bob & Wilma.