Weather King is your one stop shop for quality storage sheds and portable buildings in Las Cruces, NM. Lots of different styles and sizes to choose from and you can either purchase or rent to own with no credit check! Free Delivery Too!
"Built with Outstanding Workmanship and
Quality by Mennonite Craftsmen"
• Exposed nails are ring shank and galvanized for maximum strength and no rust spots or stains.
• The 2x4 reinforced doors are designed to seal out rain and are key locked for your protection.
• Series of air vents positioned to create optimum circulation and temperature control.
• All exposed material is pressure treated.
Portable Buildings:
•

Cabins & Lofted Barn Cabins


•

Utility Buildings & Sheds


•

Barns & Lofted Barns
• Horse Barns


•

Portable Garages

Contact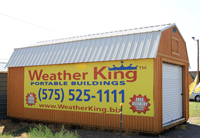 (575) 525-1111
Address
1501 S. Valley Dr.
Las Cruces, NM
Map and directions
Website
newmexicoweatherking.com
Facebook
NMWeatherKing

Hours
Monday - Friday: 8:00 AM to 5:00 PM
Saturday: 10:00 AM to 2:00 PM