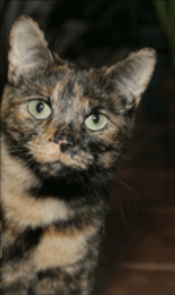 "I had been told that the training procedure with cats was difficult. It's not. Mine had me trained in two days." - Bill Dana
We all love our feline friends, but sometimes they can be a bit of a hassle. Cat training is often thought of as difficult if not impossible, but I'm here to tell you that you can train your cats to stop their annoying or destructive habits with a little patience and a couple tips.
If you have a cat that scratches up your furniture, all is not lost - try draping a nice throw of springy fabric or netting over the damaged area. This will keep your kitty from seeing old wounds and wanting to scratch there again, and the springy fabric will catch in his claws. Cats scratch to remove worm sheaths from their nails and to mark territory; if they can neither see their old scratch marks nor find a surface with enough grip to help maintain their claws, they will stop scratching. Be sure to give them a safe outlet for their natural need to scratch; tall cat trees throughout the house or trees the height of your couch in front of old scratching-territory will keep your cat from ruining your furniture in no time.
Cats can often act like children - complaining if they don't get their favorite meal or demanding attention in both negative and positive ways. As with children, the best thing to remember is: don't give in. If your cat wakes you up earlier and earlier every morning for breakfast or yowls uncontrollably before dinner, try your best to ignore her until her appointed eating time; eventually she will realize that being obnoxious doesn't work. Giving in even once will reinforce the behavior: If I bug the crap out of her, she will feed me ten minutes sooner! If your cat begs for food during dinner, try moving her feeding times so that she is always eating at the same time as you, and again, don't give in. Training, especially with felines, is a matter of routine, patience, and consistency.
As with training any animal, it's important to balance the proper amount of positive and negative reinforcement. Cats have long memories - our cat Bubbles saw a snake ten years ago by the front door and will jump at hoses or snake-like twigs around any and all doors to this day. Never frighten your cat unless they are doing something wrong; especially don't frighten them out of their 'safe places', like their beds or their comfy trees. Never hit, throw, or physically punish your cat, and especially do not punish them after the fact - shaking your cat over a pile of urine or vomit and yelling "Bad kitty bad kitty!" will not help. They're more likely to associate getting held with big scary angry sounds than peeing on the floor.
If you need to punish your cat, catch them in the act and scare them to all hell. Water bottles are great for this, and if you haven't got the python-hissing down from one of our previous articles, try clapping or stomping your feet. If you have a bean bag or a rattler, you can throw that near them so all the big scary angry sounds happen in conjunction. If the timing is right, your cat will learn very quickly what is off-limits.
Many cats become destructive or obnoxious because they aren't getting enough attention. The best way to keep your kitty trained is to play with them at least fifteen minutes a day; feather toys or long toys with strings are great to get them active, running, and tired. Cats who get a lot of active attention from their owners are less destructive, healthier, and happier. Shower your cat with love by giving them attention, not more treats or more toys, and with the help of these tips, your kitty will be cute, cuddly, and irritation-free in no time.
Article by Kat Lacy of Better Life Pet Foods in Las Cruces.