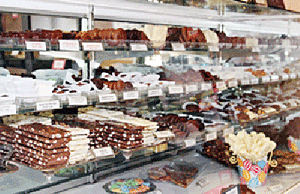 The Chocolate Lady
Homemade Gourmet Chocolate
Candy Store in Mesilla, NM
"Visiting Las Cruces
Has Never Been Sweeter!"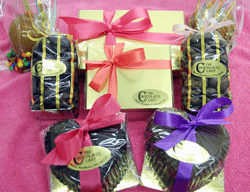 "Indulge Your Taste For
The Best Chocolate!"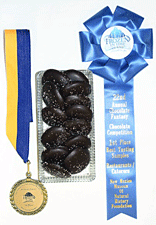 The Chocolate Lady
First Place at the 2014
22nd Annual Chocolate Fantasy
Chocolate Competition!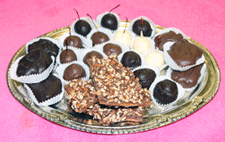 Irresistible Favorites:

Pecan Crunch
Always a favorite, rich tasting
pecans in our buttery crunch.
You'll find it addictive!
Pecan Lover's Delight
A terrific trio stacked in a pyramid
and wrapped together
with ribbon and bows!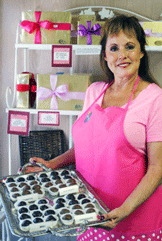 The Chocolate Lady, located on the plaza in historic Old Mesilla, creates premier chocolates in the tradition of European candy makers. She uses the finest ingredients; pure, fresh, and natural. No preservatives, no additives, nothing artificial.
For your corporate gift giving, let us custom design a pyramid of assorted chocolates and sweets, packed in gold candy boxes, lavished with ribbon and decor, in most price ranges.
Our gift service makes your gift giving effortless, and we will give all packages a personal touch.
Choose Assorted Boxed Chocolates
or Create Your Own From:


•
Turtles - Rich caramel, pecans, milk or dark chocolate

•
Toffee - In the English slab style coated in milk chocolate & pecans

•
Caramels - Homemade caramel dipped in milk or dark
chocolate

•
Cherries - Maraschino cherries dipped in milk, white or dark chocolate

•
Meltaways - Milk or dark chocolate. Very smooth & creamy

•
Bark - Almonds or pecans in milk, white or dark chocolate

•
Premier Truffles - Creamy, smooth & rich. Coated in dark or milk chocolate. Pure chocolate on chocolate
or flavored with liqueur. (Chocolate, Raspberry, Amaretto, Rum, Kahlua, Irish Cream and Champagne)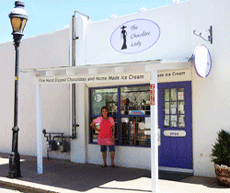 Contact
(575) 526-2744

Address
2379 Calle de Guadalupe
Mesilla, NM
Facebook
The-Chocolate-Lady

Hours
Open Every Day of the Week
Monday & Sunday: Noon to 5:00 PM
Tuesday - Saturday: 10:30 AM to 5:00 PM