Chernovtsy is a beautiful and very cultured city with a very long history. It is located in the southwest corner of the Ukraine just about 25 miles over the Romanian border. It has been part of a number of countries and empires and though Ukrainian it is considered to be one of Romania's most cultural and educational centers.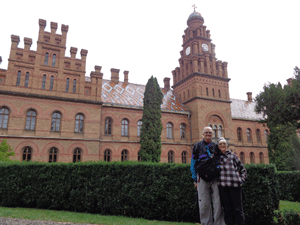 Chernovtsy is known for it's beautiful university, Chernovtsy University. It was originally built as a bishop's palace in 1864-1882.
It is built of brick and was designed by the Czech architect, Josef Hlavka, who also designed a church in Chernovtsy.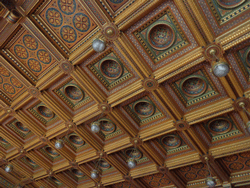 The inside of the buildings are as lovely as the outside. As of 2007, it has been recognized as a UNESCO World Heritage Site.
Before WWII, over a quarter of the population were Jewish. Because of the political situation and the ethnic populations of the country, the country had joined with the Nazis.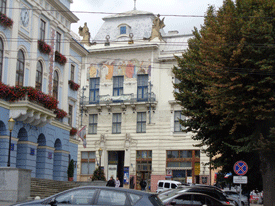 Though the Jewish population was decimated, the mayor, Traian Popovici, was able to save nearly 20,000 Jews and after the war was instrumental in relocating many to Israel. A true hero, a Schindler. His home has been saved and a plaque placed on it.
Culture abounds in Chernovtsy. The street in front of the theatre is said to have been swept with the stalks of roses the morning after a performance. A small monument has been created and placed on this street barring witness to this legend.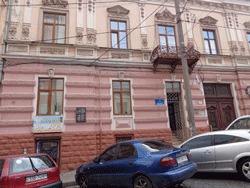 The beautiful architecture of the city also speaks of its culture. The City Hall is just one of the buildings that attest to this. Chernovtsy was at one time said to be the "Paris of the East".