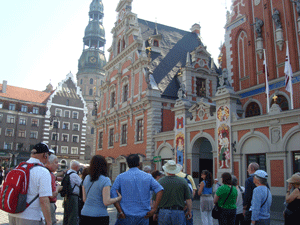 Riga is the capital of one of those three little countries that was swallowed up by the USSR at the end of World War II as was Estonia and Lithuania. This delightful city is the pinnacle of joy for lovers of art-nouveau architecture as no other city in Europe has more. There are over 750 and the number keeps growing as more restoration continues.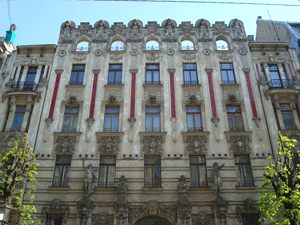 Beasts, masks, goblins, goddesses, gargoyles, etc. seem to grace every building from the ground to the top. It all seemed to have come in the first twelve years of the 20th century simulated by the influence of Japanese print art.
We could find no two buildings alike and soon we had cricks in our necks trying to see them all. We enjoyed seeing the art-nouveau of Riga, and it is wonderful, but I can never get passed the medieval. Riga has a great medieval Old Town with narrow winding cobblestone streets. Some of the buildings date back to the 1300's and some have had to be rebuilt, because of the war's destruction, though from the original blueprints.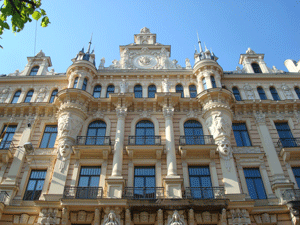 A very small portion of the city wall remains along with one of the 18 towers and a city gate. The old moat though still has water and is now a lovely park and it is wonderful to stroll through. We do enjoy browsing in markets and Riga's was unique. T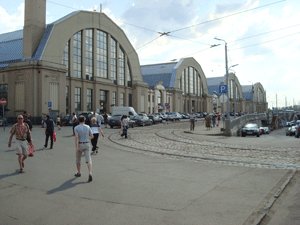 he market is housed in five huge zeppelin hangars, each 35m high. It was moved here in 1930 to be near the railroad though it is also near the river which was historically important.

We stayed in the Radisson Blu Hotel, which during the rule of the USSR, was controlled by the government. Several floors were devoted to the monitoring and watching of the guests. Having lived through the Cold War, it was a unique experience staying here though there was not a trace of any espionage or listening devices. Everything was as modern and friendly as anywhere in the US.

Photos and story courtesy of Bob & Wilma.