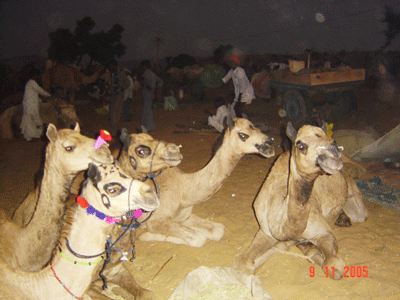 Camels are my totem! For some reason, unknown to me, camels keep tuning up in my life, from camel rides in Egypt and Tunisia to camel expeditions in China and wild camel herds in Morocco. So it's not surprising for us to be attracted to a trip to the big camel market in Pashkar, India.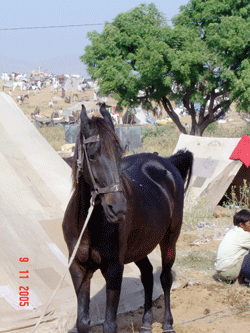 Pushkar is on the edge of the Rajasthan Desert in India. It is a small laid back town of about 13,000 people, except during the camel market when is swells to over 200,000 people and 50,000 camels. Cattle and horses are also sold and traded at this market. Horses "of good breeding" are brought just to be shown. These horses had beautiful ears that were turned in with tufts of hair on the tips.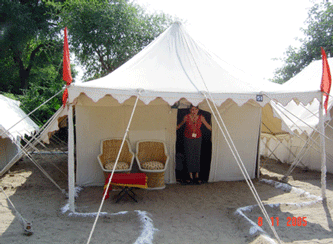 Our accommodations at the market were in tents. And what tents they were!! They were like small canvas palaces and each one had a canvas bathroom attached.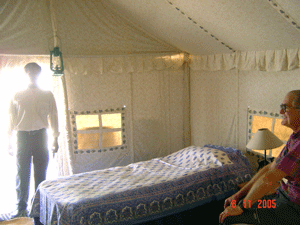 There was a dining tent with crystal chandeliers, linen tablecloths, and comfortable dining chairs. While we waited for our food, we could watch the flat bread being baked in an open oven.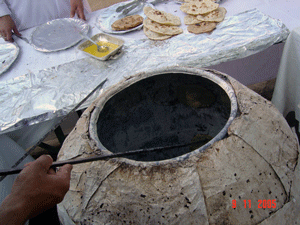 The food was delicious. Pushkar has the only Brahma Temple in India and meat is banned so only vegetables were served.
The market was within walking distance of our tent enclosure but each day we were taken to the market by carts pulled by, you guessed it, camels. This was fun too!!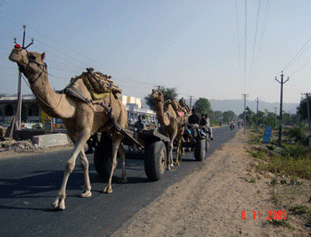 The market itself was interesting! We went out early in the morning when the animals and people were just beginning to stir and we could smell the smoke from their breakfast fires and see the animals being fed and inspected.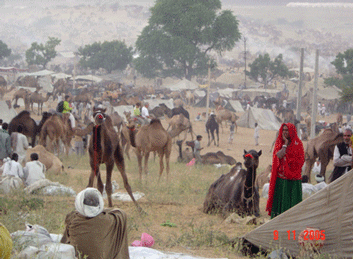 We didn't bargain for a camel or even think about it but I would have, in a heart beat, bought one of those tents with a bathroom in it!
Photos and story courtesy of Bob & Wilma.