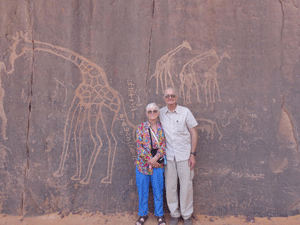 Tassili N'Ajjer National Park is an 80,000 square kilometer area in the southeast corner of the Sahara Desert in Algeria near the Libyan border.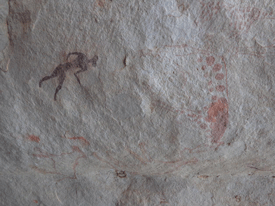 As of 1982, because of the prehistoric rock art and it's geological formations, it was listed as a World Heritage Site. Tassili means plateau to the Ajjer people who claim this area as their traditional territory. The national park is a plateau and is the repository of some of the world's oldest and best rock art, over 15,000 paintings and engravings. There are different estimations for the age of this rock art ranging from 12,000 to 7,000 years of age.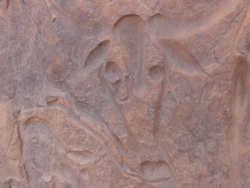 The climate at that time was much different, much more wet with large animals and plenty of vegetation thus we see large animals in the rock art and later humans appeared. One of the most famous engravings is of cows that appear to be crying and it is believed that these were done when desertification was intense.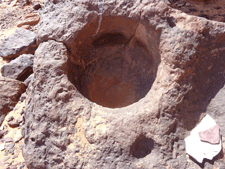 The paintings are very vibrant and bright even after all these centuries and we speculated that it was done with the colored stones on the desert floor that had been mixed with blood or fat thus a mineral compound. We did not find any artifacts dealing with the rock art but we did find other artifacts that were left behind by the artists.
All the world's deserts are unique and have unique attributes. The sand, though, in the Sahara seemed heavier and the grains seemed a little larger than other deserts we've been in. There was little vegetation too.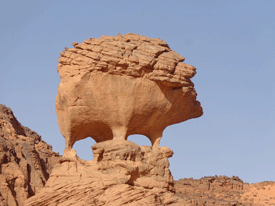 Several million years ago, this land had been covered with lava and now unique formations stand out on the sand. Though we were in 4wheel drive vehicles, camels are still an important mode of transportation in the Sahara.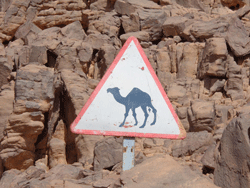 Photos and story courtesy of Bob & Wilma.