Timisoara, Romania is the largest city in western Romania and the 3rd largest in the country. It is and always has been the economic center of western Romania thus it was influenced by many cultures. This being the case, it has also become the cultural center of western Romania.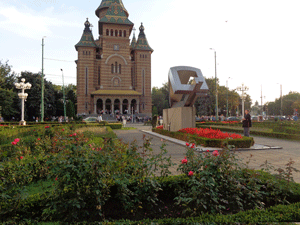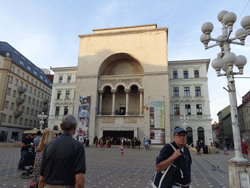 Timisoara was built on the site of a Roman fortress and dates from 1212. It is a modern and progressive city having been the first city in Europe and the second one in the world to have electric street lights.
It was here, in front of the cathedral in Dec. of 1989, that the Revolution to free Romania from the strong-armed dictator, Ceausescu, and from communism began.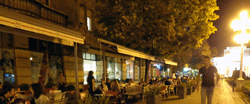 The green space of Liberty Square stretches between the theater and the cathedral and has a beautiful memorial to those that sacrificed their lives in the revolt.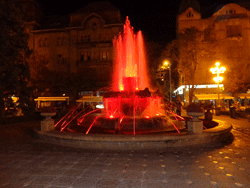 Fountains also adorn Liberty Square which is alive with cafés and people, especially at night.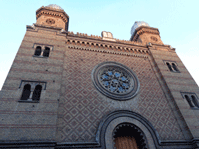 There is a strong Jewish presence in Timisoara, dating back to the second century though not mentioned in writing till 1716. Before WWII, there were six synagogues in Timisoara where as now there are only three. The lovely Oriental styled Great Synagogue, dating from 1865, is one of the largest in Europe.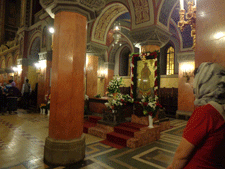 Timisoara's Metropolitan Cathedral is possibly the most beautiful church I have ever seen. It is the tallest building in Timisoara at 312 feet high.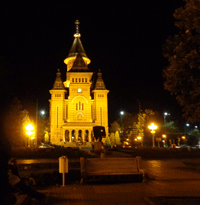 Its tall dimensions and narrow width along with the sharp pointy roofs give it an appealing gracefulness. Seen across Liberty Square, one is able to experience the full impact of it's height and beauty.
Photos and story courtesy of Bob & Wilma.