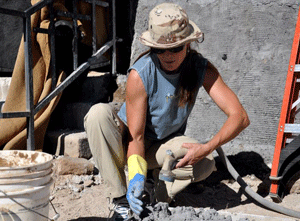 Faith Hutson is an Associate Professor at Doña Ana Community College where she passionately teaches students to become Diagnostic Medical Sonographers. In addition to caring about people and being fascinated by medicine, she is passionate about history and preservation.
Faith lives in the Mesquite Historic Original Town site and works actively to improve the District and educate others about it significance and the uniqueness of its history. She has spent three years helping to restore Phillips Chapel, an adobe structure built in 1911, which was the first Black church in Las Cruces. She current serves on the South Mesquite Overlay Design Review Board, and is a former board member of Las Esperanzas, Inc.
Other projects that Faith has been involved with in the Mesquite Historic District include starting the "Before I Die" blackboards which travel around the Mesquite Historic District, starting the District Neighborhood Watch group, and partnering with the Mesquite Historic Preservation Society to recognize a garden each month in the Mesquite District. Every spring she also organizes a plant giveaway for the community located at the Las Esperanzas Community Garden on San Pedro Street.